Field Day 2015 looks set to be another stormer this year with Ride, Caribou and Patti Smith all bringing the sun to London's Victoria Park. But what about when the music finishes? Don't worry, we've got your back and made a little list of some top bars and clubs to keep you partying till dawn the next day, and it's time to head back to the Park for round two.
Known up and down the Kingsland High Street and beyond, the Alibi is a basement bar and micro-club with a diverse array of DJs as well as karaoke and film nights. Open till 3am from Thursday through till Sunday, the Alibi remains free but expect it to fill up quickly.
Music is at the heart of this two-floor basement bar that seen performances from the likes of Bloc Party, Chvrches and The Cribs over the years, while also playing host to parties by VICE and Paradyse Records. But it's not all about the party though, with food and drink also available from Stacks Routine - a collaboration between Birthdays and Brick Lane food. Entry is free, however you may have to pay to head downstairs.
A large creative building in an old parking basement, The Laundry is a 720 capacity events space that houses tonnes of club nights, gigs, film festivals and art exhibitions. The bones of the venue are incredibly raw and industrial, giving scope to each promoter to add their own stamp to the venue, meaning each event is never held in the same place. There is also an accompanying brasserie converted by Radiohead guitarist Ed O'Brien, and features a variation of pop-up restaurants who take over for a limited amount of time. Opening times obviously vary between brasserie and the main space, but events in the latter tend to run late into night.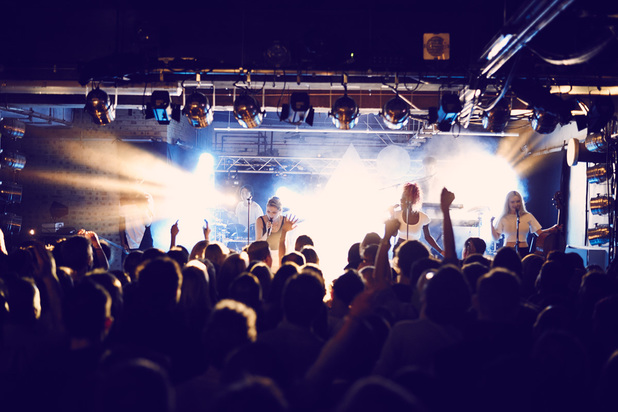 Renowned for its left-field gigs, Oslo is a bar, kitchen and venue in the redeveloped Hackney Central railway station. Inspired by Nordic traditions and aesthetics, the club can fill in around 600 clubbers over its two floors, and brands itself as a 'daytime hub to meet and greet, and a night time destination for socialising, eating and enjoying an array of music.' Oslo is open until 2:30am during the week and till 3am on Friday and Saturdays. Entry price varies between times and events.
Dereliction or shabby-chic, The Shacklewell Arms has become a Dalston institution, throwing open its doors to an impressive eclectic gig programme and various club nights, magazine launches and after-show parties. The venue is split between its bar and kitchen area in the front and the live back room, that often plays host to local musicians working away in the studio next door. Entry again varies between events but is never enough to break a pocket.
Now you've got the perfect accompaniment to make it another Field Day to remember, all that's left to say is, see you in the Park!